InnDesk
InnDesk is a web-based application that allows the user to view room and wakeup call status information provided by the DuVoice system. It can also be used to perform some basic room and wakeup call management functions, such as checking a room in or out, and scheduling or canceling a wakeup call.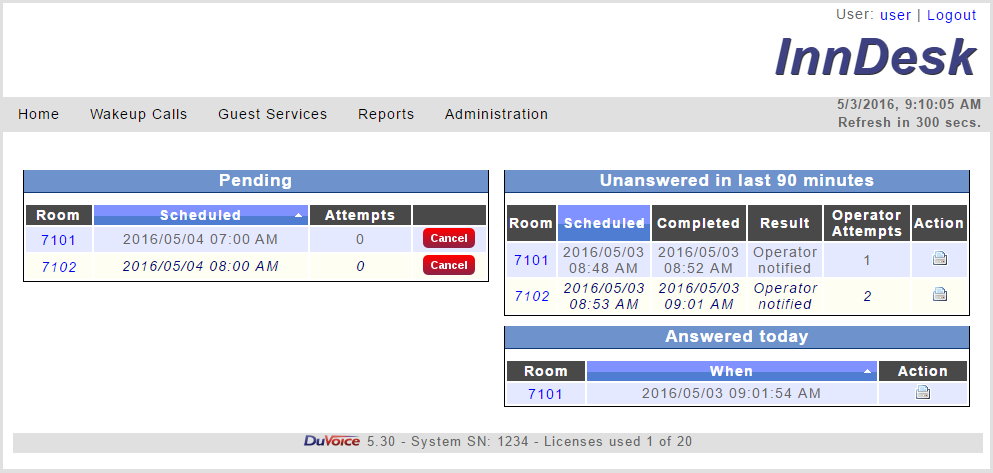 Features
Scheduling Wakeups

Pending Wakeups

Failed Wakeups

Group Wakeups

Checked-in status

Clean / Dirty status

Guest Name

Room Phone Permission

Guest DND

Message Light

Guest DID Numbers

Guest Language

Text Messages

Individual Staff Login

Minibar Inventory

Detailed wakeup call reports per-room.

Custom color scheme matching many hotel chains.
Release History
2.0.2 - Released 2016-05-17
[feature][issue #212] New Add All Vacant and Occupied rooms buttons to group management.

[feature][issue #217] Ability to sort Items list in Inventory.

[feature][issue #210] Moved Inventory and Room Status reports to report menu.

[feature][issue #211] Administration menu hidden for non-administrators

[feature][issue #208] Ability for user to change password.
2.0.1
Initial release with 5.30.